THE SCOOP
February 2023 Newsletter
Hi friend,
Did you know that 36.5% of North Carolina's tech industry workforce is made up of women, which is the second highest in the country! We know there's a lot more work to be done, but are grateful to be able to encourage and champion women and equality in the tech industry. Our annual Women in Confidence event next month is centered around Equal Pay Day and empowering women with tools, encouragement and confidence in this male-dominated industry. 
We're also looking forward to The Dean's List's  8th birthday party on 2/26, Bizwomen's  10th Annual Mentoring Monday on 2/27,  and the Women in Data Science Conference on 3/8 that aims to inspire, educate and engage current and future data scientists. Lastly,  AMA is hosting their Alphabet Bash – Charity Mixer and Business Networking on 3/21 with proceeds going towards our partner, Dottie Rose Foundation. 
All my best,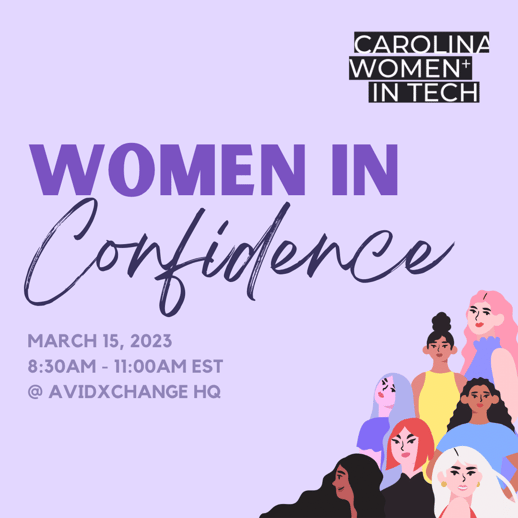 March 15th, 2023, 8:30am – 11:00am
@ AvidXchange HQ & Virtual
You won't want to miss our annual Women in Confidence event! Tickets are limited, so register today!
International Women's Day's Toast & Trivia
March 8th, 2023, 5:30pm – 7:30pm
@ RBF Champagne Bar
Join us for a partner event with the French-American Chamber of Commerce of the Carolinas for an evening of French bubbles, macarons and trivia! 
Save the Date for these Upcoming Events!
More details and registration coming soon
March 24th, 2023 – Raleigh Mentorship Circle Kick-Off
April 19th, 2023 – Charlotte Mentorship Circle Meeting #1
Have a local event you'd like to promote? Let us know by replying to this email! 
We love supporting our students! So we put together some scholarship opportunities below: 
We Love Our Sponsors & Community Partners