THE SCOOP
January 2023 Newsletter
Hi friend
I hope your 2023 is off to a fantastic start! We have so much to look forward to in the coming months. We're especially proud and excited for Dr. Sharon Jones and the Dottie Rose Foundation to open the Dunbar House this Spring. The Dunbar house will be used as a creative hub to prepare girls for their futures in the tech fields – they were recently featured in the Charlotte Inno.
Join us for our first  Mentorship Program event of the year happening TOMORROW at AvidXchange in Charlotte month (see details below). Next week we're hosting a Community Appreciation Breakfast on January 27th for anyone interested in getting more involved in CWIT. We hope to see you there!
If you're looking for some community events, there is definitely a lot to look forward to! Moxie Mercantile is hosting at their sister store Betty's Eat The Elephant: An Entrepreneurship Panel on January 18th.  Digi-Bridge is hosting Bots and Brews, a community event focused on robotics, STEAM and friendship for both kids and adults on February 26th. Charlotte Business Journal is hosting its annual Mentoring Monday on February 27th.
All my best,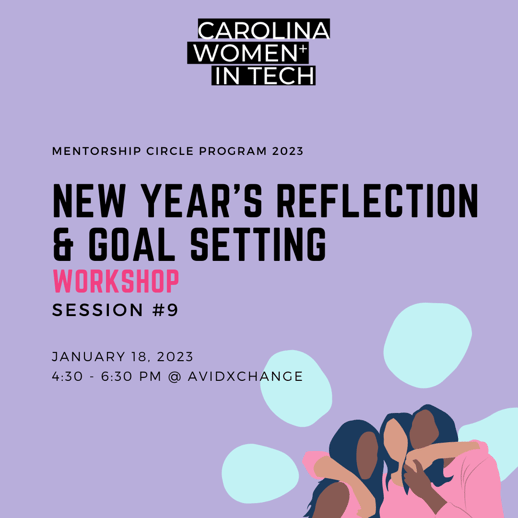 Community Appreciation Breakfast
January 27, 2023,  8:30 – 10:30am ET @ Living Kitchen
We invite you to join us for a Community Appreciation Breakfast for CWIT members, allies, and those interested in getting involved!
Save the Date for these Upcoming Events!
More details and registration coming soon
February 9: Charlotte Galentine's Event
March 15: Charlotte-Hybrid | Women in Confidence Breakfast
February 15, 2023, 5:30 – 7:30pm  ET @ Pearson Education
Looking for a fun networking event? Join us at Pearson Education for an evening of sweet treats, wine and speed networking.
Have a local event you'd like to promote? Let us know by replying to this email! 
We Love Our Sponsors & Community Partners